Category Archive
You are currently browsing the category archive for the 'social justice' category.
For the eighth summer in a row, Hopedale's Social Justice Committee is planning June and July Sunday services. Our format is less formal than usual, and we'll be changing things up from week to week, including one field trip. But the focus is always on the integration of Hopedale's appreciation of the season as it intersects with social justice agendas and local opportunities.
This summer, we are framing a number of our services with the 40 days of Action of the Poor People's Campaign, which began on May 13 and end on June 23. This focus is consistent with the 2014-2018 UUA Congregational Study Action issue, "Escalating Inequality." The themes for our first three services represent the focuses of the national Poor People's Campaign for those weeks.
In order to better open up our summer programs to others in the community, we will be gathering for refreshments at 12:00 noon, and beginning our programs at 12:30 pm. All of the programs will be at Hopedale, except for one field trip; on June 10, we will gather at noon at Merry Day Park off of Reagh Way in Oxford, for a picnic and a discussion of the new Oxford Community Choice Pantry, to be located there. July will be an extended book group, and we will read both "The Souls of Poor Folk", the audit of the Poor People's Campaign, which was just released in April of 2018, alongside The Third Reconstruction: How a moral movement is overcoming the politics of division and fear, by the Reverend Dr. William J. Barber II, published in 2016. We will combine reading and reflection with planning for local action.
June 3- Ecological Devastation: View and discuss film "Before the Flood" (running time 1hr 35 min)
June 10- Everybody has a right to live: Picnic at Merry Day Park, discuss new Oxford Community Choice Pantry with speakers Lara Osborne and Chris Shoker from the Community Choice Pantry
June 17- The distorted moral narrative: Community Potluck at 12 noon followed by Bonita Porter speaking on Gun Control
June 24- The necessity of healing: Carolyn Forrester on The Matrix of Emotional Healing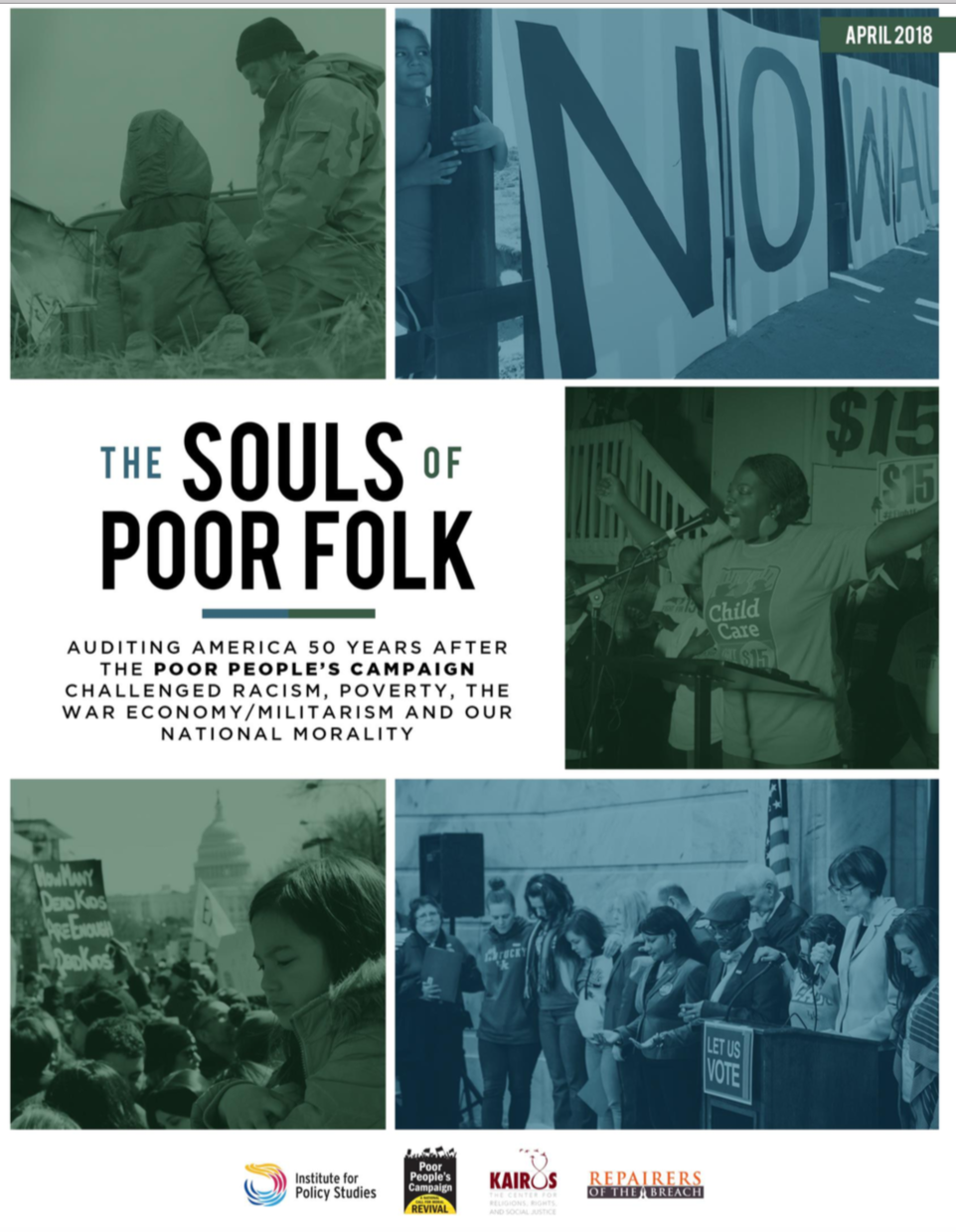 July 1- "The Souls of Poor Folk" Overview, pp. 1-23; Barber Prologue, Ch. 1, 2
July 8- "The Souls of Poor Folk" Systemic Racism, pp. 24-39; Barber Ch. 3,4
July 15- "The Souls of Poor Folk" Community Potluck followed by discussion, Poverty & Inequality, pp. 40-67; Barber Ch. 5,6
July 22- "The Souls of Poor Folk" The War Economy & Militarism, pp. 68-88, Barber Ch. 7, 8
July 29- "The Souls of Poor Folk" Ecological Devastation & Conclusion, pp. 89-119; Barber Ch. 9 through Acknowledgments
To download "The Souls of Poor Folk" go to:  https://www.poorpeoplescampaign.org/audit/
Did you know that pollutants from oil and gas production include Methane (which is 87 times more powerful as a contributor to global warming than carbon in the atmosphere and also include major health risk toxins such as formaldehyde, benzene, acetaldehyde, and ethyl benzene?
The threat is in our backyard: ¼ of all Americans living within the ½ mile threat radius of oil and gas production pollutants live in Ohio and Ohio ranks 10th nationally in total population living within threat zones.
Follow this link to an interactive map by Earthworks , the Oil and Gas Threat Map, to learn more.
Here are other very informative links on oil and gas threats.
Social Justice Committee Update for September, 2016
Summer Sunday Services arranged by Ann Fuehrer were a wonderful way to keep us engaged in and nourished by community. Many thanks.
Our attempt at supplying the Oxford Pantry with green beans reminds me of some recent reading I have been doing on the Irish Potato Famine, an Gorta Mo'r. Apparently we succumbed not only to the bunnies, but generally to a bad year for beans. Thankfully our crop failure did not have such dire consequences. We will be re-examining the role of Hopedale's community garden.
Funding for the Lummi Nation (a UUA supported project) was successful and the totem pole is on its way! The 2016 Totem Pole Journey will travel from Bellingham, WA to Winnipeg, MB to bring attention to the threats of proposed fossil fuel projects. Follow its progress on Facebook. To learn more go to http://www.totempolejourney.com/.
Earthkeeping Summit on September 24th, 2016 10 AM – 5PM: Nationwide & Ohio Farm Bureau 4-H Center on the Ohio State University Campus, 2201 Fred Taylor Dr., Columbus, OH 43210. Please note the following outstanding event being sponsored by Ohio Interfaith Power and Light.
Plenary keynote message will be offered by Dr. Melanie Harris, leading scholar and teacher on African American Religion and Environmental Justice. A Panel Presentation and Workshops will cover engaging topics such as: water, rural, urban, and health eco-justice issues; Faith-based story-telling for social change; food security, advocacy opportunities; building a community of solar supporters; art as ritual and resistance and climate change and working as allies with communities of color.  Discover how we can work together, with hope, for climate and social justice!
Contact Ann Fuehrer if you are interested and register on line: http://www.ohipl.org/earthkeeping-summit-2016-2/
Cincinnati Pride Parade – 11am
The parade steps off at 11am. The Parade will start at the intersection of 7th Street and Central Avenue, follow 7th Street to the intersection at Vine Street, then follow Vine Street past Fountain Square and around The Banks on 2nd/Main, before continuing onto Freedom Way and down to the festival grounds at Sawyer Point/Yeatman's Cove.
Cincinnati Pride Festival – Noon
The Festival begins at noon. The family fun zone returns to Yeatman's Cove with new and fun adventures for kids of all ages. New venders and tasty food options and the first ever Cincinnati Pride Beer Garden!
The annual Cincinnati Pride 2016 Interfaith Service OFFICIAL will be held on Thursday, June 23rd at 7PM at Truth and Destiny Covenant Ministries Fellowship UCC located at 2645 W. North Bend Road, Cincinnati, OH 45239. This special event celebrates the blessings our LGBTQA brothers and sisters bring to our community. Free admission and everyone is welcome.‬
There are many exciting events taking place during Pride Week. Visit http://www.cincinnatipride.org to see the latest list of events.
Russ Vie Brooks and Libby Earle represented Hopedale at the Meet Up 4 Justice workshop at St. John's UU in Cincinnati April 9, 2016. Three local activists shared their current work. Troy Jackson of the AMOS Project frames his activism from a faith perspective:" being prophets of the resistance by confronting the Principalities of Power—those people in positions of power who refuse to see and acknowledge the people who are suffering.  Currently the AMOS projects include (1) proposing Universal Preschool (any property tax should fund families at 200% o f poverty and provide living wages to workers), (2) addressing racial disparities in the juvenile justice system where a disproportionate number of AA youth are held to trial, (3) registering new voters, and (4) retroactively reducing non violent felony drug convictions to misdemeanors.
Pastor Ennis Tait from the Church of the Living God discussed the importance of outreach at the street level to address violence.  Project Ceasefire has been successful in teaching conflict resolution in three schools, but Cincinnati is reluctant to provide funding long term to interventions.
Stephen Johnson-Grove presented OJPC 's efforts to impact policy by framing reform in terms of promoting the health of the community and police officers.
The workshop focused on Cincinnati, but could provide some direction for Butler County.
New book reviews from the Social Justice Action Committee:
I began by reading Klein's book, This Changes Everything, but immediately found I needed to read Active Hope at the same time, because the mess we are in is indeed crazy-making.  Perhaps that is why it has been so difficult for people to acknowledge that our way of life is unsustainable. – Libby E.
Four Hopedale members – Libby Earle, Russ Vie Brooks, Ann Fuehrer and Judi Hetrick – traveled to Columbus on November 14 to attend the Unitarian Universalist Justice Assembly. Here are the reports of workshops we attended.
Three Valley Conservation Trust will be planting 10,000 trees at Salamander Run Preserve, Layhigh Road, Morgan Township in Butler County over several dates: Oct 17, 20, 27, 31 and Nov 7. Work sessions will be from 11:00 am to 3:00 pm. Contribute some time and become part of a future park's legacy by helping with the planting. The 125-acre property, funded by the OEPA and restored by TCVT's Paddy Run Conservation Project will be turned over to MetroParks Butler County in February 2016. For more information, contact Cristy Carter Trammell ctrammell@yourmetroparks.net.
Coffee, Tea, Community- Next meets on Thursday, September 17, 5:30 – 6:30pm. The Social Justice Committee invites Hopedale Members and Friends to meet for coffee, tea and discussion of various SJ interests, issues and concerns.