For the eighth summer in a row, Hopedale's Social Justice Committee is planning June and July Sunday services. Our format is less formal than usual, and we'll be changing things up from week to week, including one field trip. But the focus is always on the integration of Hopedale's appreciation of the season as it intersects with social justice agendas and local opportunities.
This summer, we are framing a number of our services with the 40 days of Action of the Poor People's Campaign, which began on May 13 and end on June 23. This focus is consistent with the 2014-2018 UUA Congregational Study Action issue, "Escalating Inequality." The themes for our first three services represent the focuses of the national Poor People's Campaign for those weeks.
In order to better open up our summer programs to others in the community, we will be gathering for refreshments at 12:00 noon, and beginning our programs at 12:30 pm. All of the programs will be at Hopedale, except for one field trip; on June 10, we will gather at noon at Merry Day Park off of Reagh Way in Oxford, for a picnic and a discussion of the new Oxford Community Choice Pantry, to be located there. July will be an extended book group, and we will read both "The Souls of Poor Folk", the audit of the Poor People's Campaign, which was just released in April of 2018, alongside The Third Reconstruction: How a moral movement is overcoming the politics of division and fear, by the Reverend Dr. William J. Barber II, published in 2016. We will combine reading and reflection with planning for local action.
June 3- Ecological Devastation: View and discuss film "Before the Flood" (running time 1hr 35 min)
June 10- Everybody has a right to live: Picnic at Merry Day Park, discuss new Oxford Community Choice Pantry with speakers Lara Osborne and Chris Shoker from the Community Choice Pantry
June 17- The distorted moral narrative: Community Potluck at 12 noon followed by Bonita Porter speaking on Gun Control
June 24- The necessity of healing: Carolyn Forrester on The Matrix of Emotional Healing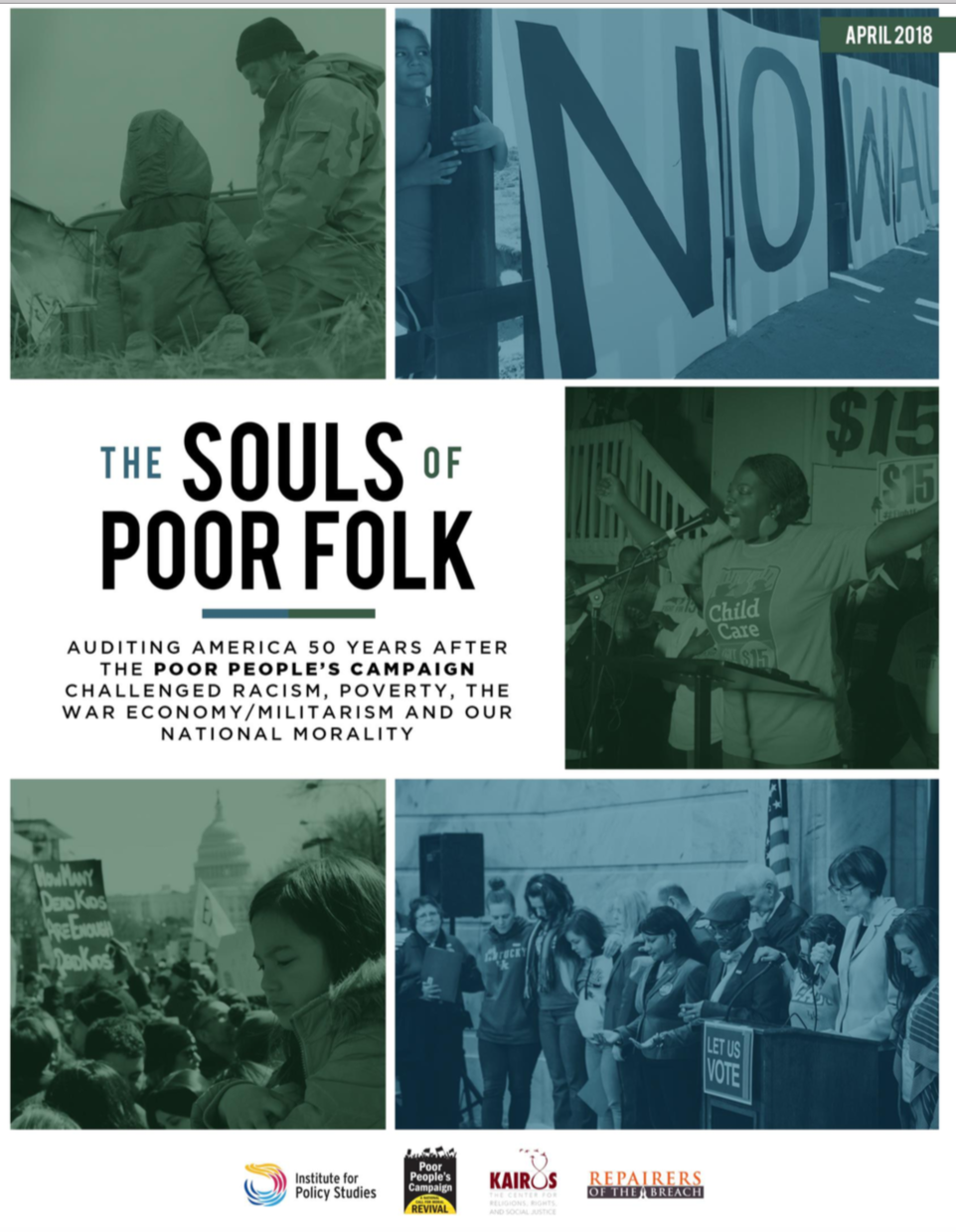 July 1- "The Souls of Poor Folk" Overview, pp. 1-23; Barber Prologue, Ch. 1, 2
July 8- "The Souls of Poor Folk" Systemic Racism, pp. 24-39; Barber Ch. 3,4
July 15- "The Souls of Poor Folk" Community Potluck followed by discussion, Poverty & Inequality, pp. 40-67; Barber Ch. 5,6
July 22- "The Souls of Poor Folk" The War Economy & Militarism, pp. 68-88, Barber Ch. 7, 8
July 29- "The Souls of Poor Folk" Ecological Devastation & Conclusion, pp. 89-119; Barber Ch. 9 through Acknowledgments
To download "The Souls of Poor Folk" go to:  https://www.poorpeoplescampaign.org/audit/